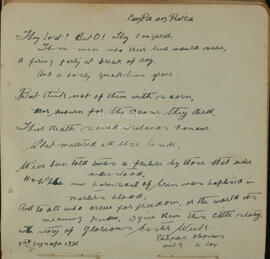 IE OCL P29/55
Part
9 August 1921
Verses transcribed Padraic Ó Briain, Rath Camp:
They lost! But O! They conquer
These men who their land would save
A firing party at break of day.
And a tasty quick-lime grave.
But think not of them with scorn
Nor mourn for the cause they died
This death saved Ireland's honour
What mattered all else beside.
We've been told twas a failure by those that ne'er understood
How the new born soul of Erin was baptised in martyrs' blood
And to all who crave for freedom, as the world its
meaning know, I give them this little story
The story of Glorious Easter Week.