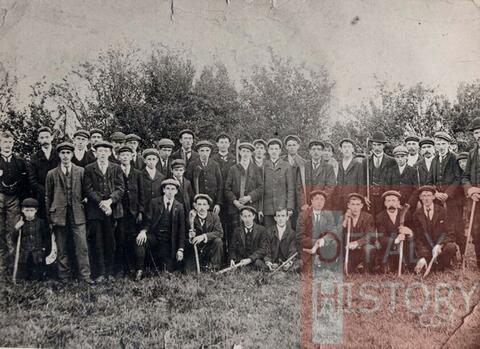 Zona de identificação
Código de referência
IE OH OHS46
Título
Records of Offaly GAA
Zona do contexto
História do arquivo
Donated by the family of the late John Clarke, a writer/reporter with The Leinster Express and a well-known GAA historian.
Zona do conteúdo e estrutura
Âmbito e conteúdo
Offaly Southern Committee GAA Minute Books 1912-1922 and 1923-1927
County Offaly GAA Minutes, 1917-1918
County Offaly GAA Accounts 1909-1936
North Offaly Minute Book 1918-1926
Tullamore GAA Club Minutes 1914-1918, 1918-1920, 1926-1929
Tullamore GAA Club Accounts 1966-1968; 1980
Avaliação, selecção e eliminação
Zona de condições de acesso e utilização
Condições de acesso
Available by appointment only. Fragile items may not be produced.
Condiçoes de reprodução
Copyright of Offaly History Archives. May be reproduced in accordance with provisions of the Copyright and Related Rights Act (2000). No reproduction online, in print or broadcast without express permission of copyright holder.
Características físicas e requisitos técnicos
Instrumentos de descrição
Zona de documentação associada
Existência e localização de originais
Existência e localização de cópias
Unidades de descrição relacionadas
Zona das notas
Identificador(es) alternativo(s)
Pontos de acesso
Pontos de acesso - Assuntos
Pontos de acesso - Locais
Pontos de acesso de género
Zona do controlo da descrição
Identificador da descrição
Identificador da instituição
Regras ou convenções utilizadas
Datas de criação, revisão, eliminação
Fontes
Dr Paul Rouse, University College Dublin
Objeto digital (Matriz) zona de direitos
Objeto digital (Referência) zona de direitos
Objeto digital (Ícone) zona de direitos