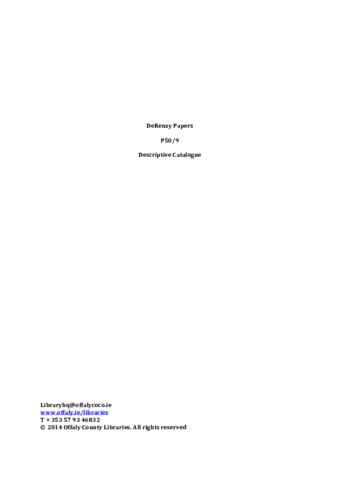 Identificatie
referentie code
IE OCL P50/9
Context
Naam van de archiefvormer
(1577-1634)
Biografie
Sir Mathew de Renzi was born in Cologne, Germany and was a cloth merchant in Antwerp. In 1604, he moved to London, but shortly became bankrupt and fled via Scotland to Ireland where he arrived in Dublin in 1606, penniless. He immediately set about becoming a landowner and made important establishment contacts in Dublin such as Sir Arthur Chichester, then Lord Deputy. A polyglot (fluent in Latin, Italian, English, German, French and Spanish), he also learned colloquial and classical Irish from the Old Irish family of MacBruideadh from the Thomond area of Limerick. This was a strategic move on De Renzi's part, so intent was he on acquiring land in a Gaelic lordship. Having travelled around Ireland to the port towns of Galway, Limerick and Waterford, he arrived in West Offaly sometime in 1612. The area, known as Delvin MacCoghlan, roughly equating to the barony of Garrycastle, comprised the modern day towns of Ferbane, Banagher, Cloghan and Shannonbridge. He acquired around 100 acres in Clonony, living in Clonony Castle, and in direct opposition to Sir John (Seán Óg) MacCoghlan, the hereditary chieftain of the area. He had many disputes with Seán Óg and dispatched letters to the Lords Deputy in Dublin outlining his various grievances.
De Renzi's 100 acres in the midlands grew to over 1000 in the following years. He also had properties in Westmeath, Wexford and Dublin. In around 1620, he sold his interest in Clonony, became a government administrator in Dublin and was knighted in 1627. Not much is known of his marriage, but that he had two sons, Mathew (d.1712) and Francis DeRenzy. In 1630, he purchased lands in the vicinity of Tinnycross, County Offaly on behalf of his eldest son. Mathew Jr subsequently sold his interest in these lands in 1704 and title passed to the Cox family of Ferns. Sir Mathew died in 1634 at the age of 57. Mathew Jr commissioned a memorial to him in St Mary's Church Athlone in 1635. When the church was rebuilt in 1820, this memorial was re-inserted at the rear of the church where it can still be seen today.
Naam van de archiefvormer
(d.1712)
Biografie
Mathew DeRenzy married Mary Howse of Cloghbemon, County Wexford, daughter of Richard Howse. He settled in Wexford and from 1699 on, he used the lands in Tinnycross to raise revenues by way of mortgages and leases. His father-in-law, Richard Howse is named as a party in many of these deeds and his wife, Mary is a co-signee. DeRenzy eventually sold his interest in the lands in 1704 to Reverend James Cox, Archdeacon of Ferns, thus ending the DeRenzy family's interests in Offaly.
(Given the span of time, it is also possible that this could be Sir Mathew de Renzi's grandson, son of Mathew DeRenzy. This is not clear from records.)
Geschiedenis van het archief
The DeRenzy Papers form part of a larger collection of solicitors' papers deposited by Hoey & Denning, Tullamore, with Offaly County Library in the 1980s per Michael Byrne of Offaly Historical Society. Hoey & Denning acted as land agents for the Cox family to whom the DeRenzy estate in Offaly was sold in 1704.
Inhoud en structuur
Bereik en inhoud
Legal agreements in the form of deeds and indentures relating to the Derenzy family's title and interest in lands in the vicinity of Tinnycross, County Offaly. The earliest deed dating from 1630, records Sir Mathew de Renzi purchasing the townlands of Ballynashragh, Ballycosny, Tyrenehinan, Kilmore and Derry, all in the barony of Ballycowen, on behalf of his son Mathew DeRenzy, then at the bar in London. The vendor was Robert Branthwaite of London, who had been granted the land by letters patent of King James I. Further adjoining townlands of Rossnagouloge or Cappanure were purchased by Sir Mathew from Allen Jones in 1630, and the following year the adjacent townlands of Derrykilliagh and Kilbeg were purchased from Art McOwen O'Molloy. All were settled on his son, Mathew DeRenzy.
The bulk of the collection consists of numerous leases and mortgages raised against the land by Mathew DeRenzy between 1699 and 1703, while he lived at Cloghbemon in County Wexford. Later items in the collection relate to the sale of the lands to Reverend James Cox, Archdeacon of Ferns.
Waardering, vernietiging en slectie
Ordeningstelsel
The collection has been arranged chronologically in three broad strands. Section 1 lists the deeds and legal agreements concerning the initial acquisition of townlands in the vicinity of Tinnycross, County Offaly by Sir Mathew de Renzi and his arrangements to settle these lands on his son, Mathew DeRenzy.
Section 2 lists the leases and mortgages raised by Mathew DeRenzy against the lands to various persons, most notably his father-in-law, Richard Howse, of Cloghbemon, County Wexford.
Section 3 lists the deeds concerning the sale by DeRenzy of the lands to Reverend James Cox, and thereby the end of the DeRenzy family interest in the lands at Tinnycross. Some further deeds record mortgages Cox raised on the lands subsequent to his purchase.
Voorwaarden voor toegang en gebruik
Voorwaarden voor raadpleging
Available by appointment. Produced for consultation in original format with due regard for handling guidelines. Some fragile items may not be produced.
Voorwaarden voor reproductie
Schrift van het materiaal
Taal en schrift aantekeningen
English; occasional Latin
The spelling of 'Derenzy' varied through the years. Variations include 'de Renzi', 'De Renzi', De Renzy', 'DeRenzy', Derenzie and finally settling on 'Derenzy'. It is not unusual to see more than one variation of the surname in a single document. Likewise, the spelling of townland names also changed over the years. Names have been rendered as they appear in the document. County Offaly has been rendered as King's County as it appears in all documents in the collection.
Fysieke eigenschappen en technische eisen
All items are of parchment and have undergone professional conservation.
Toegangen
Catalogue available as downloadable pdf. Click on digital object above.
Verwante materialen
Bestaan en verblifplaats van originelen
SP 46/90–93, De Renzi Papers Vol I – IV, The National Archives, Kew
Bestaan en verblijfplaats van kopieën
Related units of description
Notitie Publicaties
Loeber, Rolf, 'Civilisation through plantation: the projects of Sir Mathew de Renzi in Harman Murtagh (ed.), Midland Studies: essays in commemoration of N. W. English (1980)
MacCuarta, B., 'Mathew de Renzy's letters on Irish affairs 1613–1620' in Analecta Hibernica 34, 1987: 109–182
MacCuarta, B., 'A settler's land disputes in a Gaelic lordship: Mathew de Renzy in Delvin MacCoghlan, 1613–18' in Studia Hibernica 30, 1998–9: 63–88
Ryan, B., 'A German planter in the midlands' in History Ireland 8: 1, 2000
Shortall, L, 'The DeRenzys of Tinnycross' in Offaly Heritage 8, 2015
Aantekeningen
Alternative identifier(s)
Beschrijvingsbeheer
Identificatie van de beschrijving
Identificatiecode van de instelling
Toegepaste regels en/of conventies
Verwijdering van datering archiefvorming
Digitaal object (Master) rights area
Digitaal object (Referentie) rights area
Digitaal object (Thumbnail) rights area
Voorwaarden voor raadpleging en gebruik